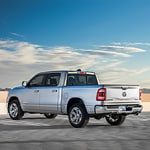 A light-duty pickup truck might not take on the same super-heavy jobs as a commercial one, but drivers do put their pickups through some tough work. So, light-duty drivers do want a make and model known for durability. The Ram 1500 fits that description and receives a deserved popular boost.
Frame strength factors have a way into how durable the Ram 1500 is. High-strength steel comprises about 98% of the frame. That much steel adds raw strength to the frame, and should increase driver confidence about the 1500's durability.
Other features contribute to durable and safe handling. A powerful engine drives the Ram 1500's performance in Mt. Pleasant. Optional front crash prevention could lead to driving becoming much safer. Powerful brakes, 14.9-inch largest-in-class ones, come standard on all 1500 models, further supporting safe performance.
How does the Ram 1500 truck operate on the road? At My Chrysler Dodge Jeep Ram FIAT, you can discover that answer by going on a test drive.